---
STRANGE AMBER LIGHTS
Lawrence
Canada -- Totonto / March 11, 1998
This is some news story you have sent. Tonight I had a strange incident before I logged onto the internet. Before 11 pm Local time in Toronto, I went outside on the porch and was playing, at a moderate volume considering all the noise from the road, a track from Michael Stearns "Encounter", which fitted the bill for all the lights aeround the airport here. Some of which are obviously planes, but some of which do not seem to fly in any particular direction but just hovered for a long time. One of these flew over the house in a line going east, but I couldn't look. A friend has told me that these are simply planes waiting to land, which doesn't always work since sometimes the objects go in one direction, then stop for a few minutes, then fly in the opposite direction. They usually have airplane style landing lights but I don't know if I can say if they are secret experimental designs or just plain old UFOs, except they don't seem to leak more than usual levels of radiation. Some do appear distinctly round, or have shapes that change with their inclinations.
After a few more of these roving lights appeared, there was a strong amber light in the west that just hovered. It sometimes stays there for fifteen minutes up to three hours, often joined by its family of amber-coloured lights. I wondered if these were related to the "greys", since I've seen these ambling around this district, arriving in cars or standing in a window. After a while of standing in the west, the amber object began blinking its lights at me, as if some guy was turning the lights up and down with a knob; it looked like someone playing with a lighting kit! This went on for a bit, maybe five or so minutes, then there was another UFO moving up in a diagonal line toward it, and also some dimmer amber lights seemed to creep up behind and the original amber ship flew in a northerly direction still flashing or blinking its lights like a cursor on a computer.
During the daylight hours I was sitting in the living room, and closed my eyes, feeling a sudden disorientation or exhaustion. I saw the shape of the grey seen in the "New Mexico & the World" website. I soon felt as if in conversation with this amber-colour fellow, and heard that a fighter jet was about to come through the area. Within a handful of minutes a fighter jet did indeed appear as it flew low over this house to the south. I've been frightened bad since this afternoon at least, especially when I heard them chattering at sundown. All of which has just happened!
---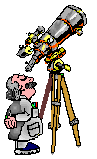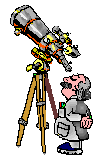 You're Viewing Page Seven!
Click an Alien below to view another page, or ...
Click this Pic to return to Page one, or ...
Click here to send a Guestbook Email